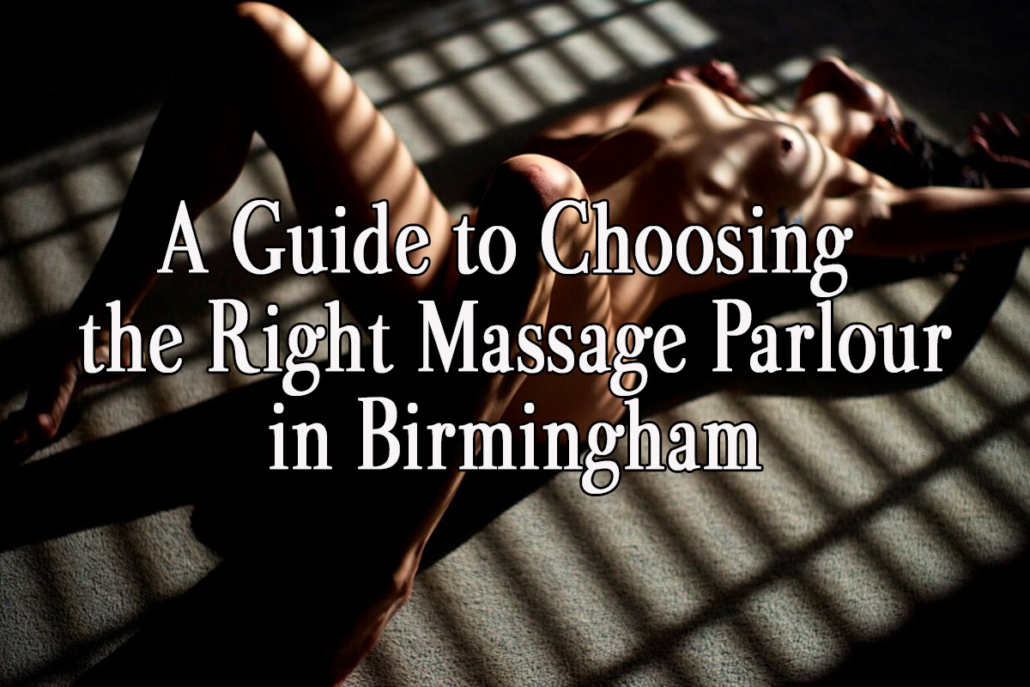 A Guide to Choosing the Right Massage Parlour in Birmingham
It's time to talk about erotic massages. More specifically, choosing the right massage parlour in
Birmingham. The classic rub and tug is surrounded by stereotypes and misinformation, which
often leads to people thinking they know how to give an erotic massage with a happy ending,
but in reality, they don't.
Choosing the wrong erotic massage can be a nightmarish experience that can not only lead to
you lose money on a crappy massage but it can also lead to an injury if the girl doesn't know
what she's doing.
At Girls Just 4 You, we class erotic massages as our bread and butter (or baby oil and
handjobs), and we've learned a thing or two by providing the great people of Brum with toe curling
experiences they'll never forget.
Today, we want to spurt some of this wisdom all over your chest as we teach you five crucial
things to remember when choosing the right massage parlour in Birmingham and ensure you
don't make any of the most common mistakes many others often do.
From ensuring the staff knows what they're doing to managing your expectations, by the end of
this guide, you'll be able to flawlessly glide through the Birmingham erotic massage scene like
you're coated in baby oil.
Now, without further ado, let's begin!
Make Sure The Girls Know What They're Doing
An erotic massage isn't just a basic rub down and a happy ending; it should focus equally on the
masseuse's skills and erotic talent to ensure the client leaves with a smile and the sensation of
floating on air.
So, the first thing to do when choosing a massage parlour in Birmingham is to ensure that the
girls are experienced, qualified, and know what they're doing when it comes to delivering a
range of massages (as well as the sticky finale that comes after).
An inexperienced masseuse can sometimes lead to injury, so you want to avoid this at all costs.
Read The Reviews (And Reread Them!)
An erotic massage parlour can tell you that they provide the greatest adult rub down outside of
Thailand, but it could turn out to be nothing more than hot air. Customer reviews, on the other
hand, rarely lie.
Before you book an appointment at a massage parlour in Birmingham, always do a little digging
and look up feedback from people who've visited before. If the service is crap or the facilities are
lacking, they'll be sure to tell you about it.
Ensure You're Booking a Happy Ending, Not a Sad Ending,
Massage!
One of the worst mistakes an erotic massage rookie can make is to spot what looks like a
parlour on the street and go inside for a rubdown. However, when his throbbing cock springs
into action, and a lusty look appears in his eyes towards the end of the session, he's asked to
leave rather than getting the contents of his balls sprayed all over his chest in an oiled-up wank
to remember.
Not every massage parlour in Birmingham is an erotic one catering to sexually-liberated adults,
so make sure the one you book an appointment at is!
There are always some telltale signs of an erotic massage parlour, such as flashing neon lights
and very late opening hours. Because few people are going to go for a massage at 2 am unless
it means they get their cock handled by an oiled-up seductress.
This brings us to our next point, managing your expectations in a Brummie massage parlour.
Manage Your Expectations and Make Them Clear
There's more than one way to make a guy cum, and this extends to the massage parlour scene
too. However, when it comes to choosing the right massage parlour in Birmingham, it's always
essential to manage your expectations and make them clear with the masseuse in advance.
For example, a lot of massage joints don't offer penetrative sex. So if you're expecting to climb
between the oiled-up thighs of your masseuse for the grande finale, you'll likely be disappointed.
Want a busty blonde to slide a finger up your finger hole and bring you to an explosive prostate
massage? Not all massage parlours offer this, and it sometimes needs to be booked in
advance.
Sounds like a nightmare, right? Finding the ideal massage parlour that's open-minded to
requests and staffed by experienced girls can be challenging. Luckily, the solution isn't hard to
find, which brings us to our last point!
Want The Easiest Birmingham Massage Experience Possible?
Stick to the Experts Like Girls Just 4 You!
Rather than traverse the oil-soaked minefield of good, mediocre, and downright lousy massage
parlours in Birmingham, why not just streamline the whole experience with a visit to Girls Just 4
You?
Not only are we equipped with the facilities to host as many massage and orgasm-hungry
clients as possible, but we're also staffed by a wide array of sex-loving escorts who love nothing
more than sending clients down the rabbit hole of true relaxation followed by a rollercoaster of
sexual ecstasy.
Better yet, our massages can be combined with our intense range of other erotic services. Want
to round off your oiled-up rub down with the hot, dripping pussy of a sex-hungry MILF using your
cock like a sex toy? You got it! Or maybe you want the best of both worlds and want to
experience the brutal whip of a Dominatrix in a Femdom session before enjoying aftercare in the
form of a Nuru massage?
Whatever your desires are, Girls Just 4 You can satisfy them in one convenient cum-soaked
package!
So, Now You Know The Top 5 Reasons to Choose Girls Just 4 You, What
Are You Waiting For?
And there you have it! This guide to choosing the right erotic massage parlour has outlined
some of the main tips and tricks any fresh-faced newbie to the massage scene needs to know.
Now, the only question is, what are you waiting for? The team of horny escorts at Girls Just 4
You are waiting for you to come through the door. That baby oil isn't going to stay warm forever,
you know!
https://girlsjust4you.co.uk/wp-content/uploads/2023/04/a-guide-to-choosing-the-right-massage-parlour-in-birmingham.jpg
800
1200
Sammy
https://girlsjust4you.co.uk/wp-content/uploads/2023/01/girls-just-for-you-birmingham-logo-pf.png
Sammy
2023-04-13 13:46:55
2023-04-13 13:55:59
A Guide to Choosing the Right Massage Parlour in Birmingham