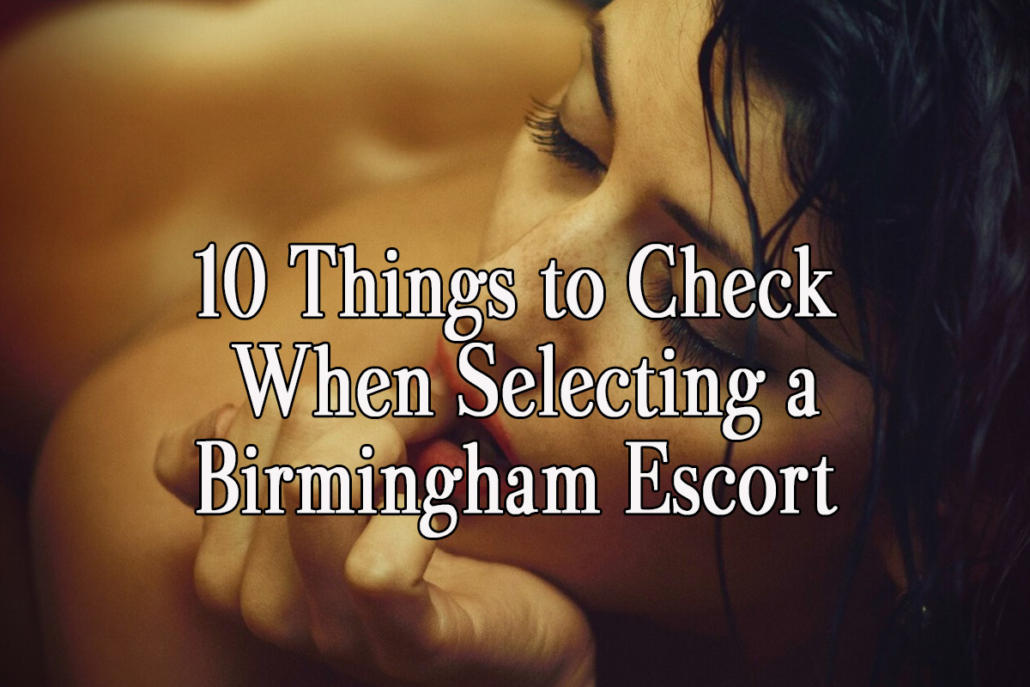 10 Things to Check When Selecting a Birmingham Escort
When selecting a Birmingham escort and knowing what to check beforehand, it's safe to say
that we're pretty much experts in this field. We've been running escort-related businesses in
Birmingham for a long time and know the ins and outs of the scene like no other.
However, the escort scene in Brum is one often surrounded by stereotypes and misinformation,
meaning it can be a cum-soaked minefield for people to navigate, especially when they're first
stepping foot into the scene.
But that ends today as we're about to provide the ultimate ten-step guide on things to check
when selecting a Birmingham escort for a sexual adventure unlike any other. Now, get ready to
have your mind (and, hopefully, your cock) blown!
Understand the Services She's Offering and Make Sure it's What
You Want
The first step to choosing a Birmingham escort is ensuring you know what she's offering and
whether it's right for you.
Some girls will offer everything from mild to wild, whether it's an erotic massage with a happy
ending but no penetrative sex, to a Femdom experience that will have you fucked with a strapon
before being baptized in a watersports session.
Whatever services you select, make sure you know what you're getting into and ensure it's both
something you can handle and that will sexually satisfy you.
Make Sure Her Pictures Are Accurate and Up to Date
Look, it's not uncommon for a Birmingham escort to use pictures taken when the first model
iPhone was released. This means that some guys turn up to get laid and end up leaving
disappointed when they see a girl who looks completely different from the one they saw in the
pictures.
So, before booking a meeting with a Brummie escort, always ensure her pictures are recent and
accurate.
Look up What Past Clients Have Said
Most modern escort sites have a review section where previous clients can post feedback on
their experience and this is a great way to get an idea of what the experience is like and
whether it's worth paying for.
Make Sure She's Based in a Safe Area
Birmingham is generally a safe city. But, as with anywhere, you don't want to go to some areas,
especially after dark, horny, and with a pocket full of cash. So, when meeting escorts in
Birmingham for the first time, always check the area to ensure it's safe. If not, ask if she'll do an
outcall. This is especially important for outside visitors to the city.
Make Sure Her Prices Are Correct
Many escorts advertise across different sites, and quite often, one site may feature outdated
prices. Always confirm her fees before booking so you don't end up in an awkward situation
when meeting in person and getting a surprise about the payment.
Ensure She's Doing This of Her Own Free Will
Let's get real, escorting can be a rewarding career, but there are sadly some awful people in
this world who force women to do it against their will and extort them for the profits. This is
something to always keep an eye out for.
When meeting an escort, always keep an eye out for any warning signs that she's being
coerced (body language is always a good indicator). If it doesn't feel right, get out.
Don't Let Being Horny Take Priority Over Your Health
Like in day-to-day life, STIs are just as prevalent amongst escorts, whether it's Birmingham or
any other sex hotspot in the world. When meeting an escort, always ensure you're both clear of
any sexually transmitted infections and, if something doesn't look or feel right, politely decline.
Be Clear About Limits
Just because a girl fucks for cash doesn't mean she's a sex doll you can use as you wish. When
meeting an escort in Birmingham, always be clear about limits.
If you like to slap a girl's ass as you fuck her in doggy, ensure she's ok with it. If you're the type
of guy who likes to slide a digit up their butt as you go balls-deep in her pussy, definitely make
sure it's all agreed upon beforehand.
If She Asks For a Downpayment, Ensure She Can be Trusted
Some escorts in Birmingham may ask for a downpayment from new clients, especially the most
popular and highly demanded girls. This is to deter time-wasters and ensure that the girl doesn't
lose money in the event of no-shows and cancelled bookings.
However, this trust works both ways. If you're being asked to make a downpayment, ensure
she's a verified and well-reviewed escort who does this as a standard practice rather than
someone who'll disappear with your hard-earned money.
Be Clear About What's Included
There are few things worse than paying for ''sex'' with an escort only to find out you've been
hustled and pretty much everything, such as sucking tits and different positions, comes with an
additional cost.
This is why it's vital to be clear and upfront about what's included in the price to avoid any
misunderstandings and potential disappointment.
Want to Meet a Brummie Escort in the Easiest Way Possible? Stick With
Girls Just 4 You!
It's no secret that the world of Birmingham escorts and choosing the right working girl can be a
minefield, especially when you're a fresh-faced newcomer (or new cummer). However, it doesn't
have to be.
What better way to streamline your Birmingham escort experience than by leaving it to those
who wrote the rulebook, Good Girls Just 4 You?
All of our girls are sex-loving harlots who take pride in their work, and the list of sexual
experiences that lie in wait behind our days are insanely diverse.
From role-playing and femdom to erotic massages and even private orgies, we are the premier
hotspot for you to live out your Birmingham escort experience in the most straightforward,
safest, and most fun way possible!
Our girls are dripping wet and waiting for you with their stocking-clad legs spread. So, what are
are you waiting for?
https://girlsjust4you.co.uk/wp-content/uploads/2023/04/10-things-to-check-when-selecting-birmingham-escort.jpg
800
1200
Sammy
https://girlsjust4you.co.uk/wp-content/uploads/2023/01/girls-just-for-you-birmingham-logo-pf.png
Sammy
2023-04-13 13:25:45
2023-04-13 13:43:22
10 Things to Check When Selecting a Birmingham Escort